Easily set your practice business hours on the calendar & add the client portal to your website.
As we get closer to deploying our Stripe integration for payment processing, we're happy to say that we were able to sneak a couple features into therapyzen this week that some of you have requested recently. These requests made such good sense, we wanted to get them into therapyzen pronto. You can now set your practice business hours on the calendar and easily add access to the client portal to your practice website. These features are now live, so feel free to give them a test drive!
First request: The ability to set your own default business hours on the calendar
The therapyzen appointment scheduling calendar defaults to 8am-5pm for business hours. Even though you can toggle the calendar to show you all hours of each day, the business hours are what you see when the calendar initially loads up. Our users let us know very quickly that they would like the ability to set those business hours according to their own practice hours. This was such a good idea, we started working on it immediately. Here's a small snapshot of the calendar settings tab in therapyzen.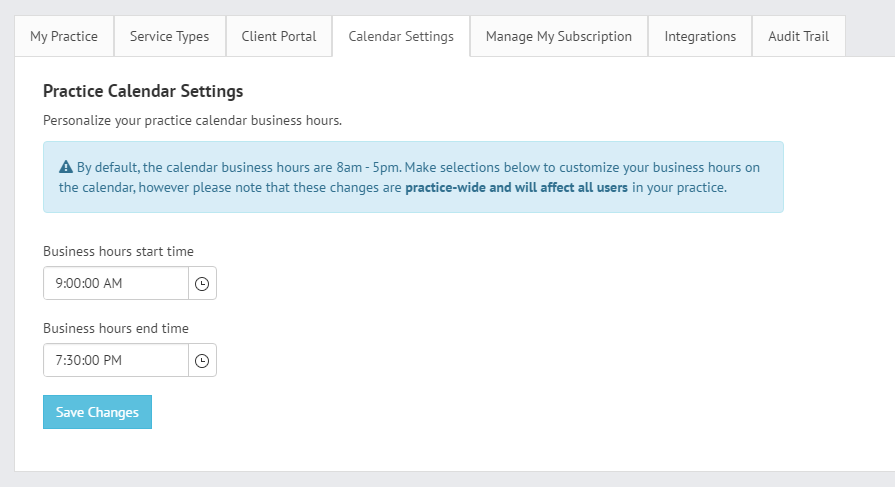 See a video on how to change your business hours on the calendar in TherapyZen
Second request: An easy way to provide your clients with access to the client portal.
A client portal is an invaluable tool for engaging your clients as well as streamlining your data entry tasks. We wanted to make it easier for you to add access to the portal right to your own practice website. We've also made sure that the client portal login page is branded using your own practice's name. You don't need to be a web designer or know any coding to add the portal link to your site, you just need to know how to copy and paste, it's that simple. Here's a screenshot of the client portal settings tab and a video on how to add the link to your WordPress or regular website.


Watch a short video showing you how to add the client portal link to your website
Keep the feature requests coming!
Therapyzen continues to get better based on the suggestions and requests of our awesome users! Keep those requests coming as only you can so we can make sure that therapyzen is growing with you and your practice. As always, stay tuned there's much more to come…