Running a business can be a daunting task.
Everyone would rather focus on the things they do best. And for counselors, collecting payments from clients is not one of them. No matter how disciplined you are about collecting payments prior to treatments, invoices can and will inevitably fall through the cracks. Not to worry, it happens to the best of us. To avoid the stress of collecting payments, use sound policies and procedures. Most of our own therapyzen users employ some common sense payment policies to help protect themselves.
Good Payment Policies
Keep a valid client credit card on file.
Get signed authorization to charge client cards for past due invoices.
Running a tighter ship with Therapyzen and Stripe
These simple policies will do wonders for helping you collect in a timely manner. As a result, you will find yourself spending less time chasing down clients and more time being productive. The only problem you will need to deal with is the occasional expired or declined card. Therapyzen integrated with Stripe does a great job of enforcing these policies and will take all the stress out of collecting payments
Stripe is the payment processor that therapyzen uses to process all payments. Stripe is one of the world's best, most secure, and most innovative online payment processors. Having a Stripe account means you don't have to have a merchant account, gateway, or any other piece of the legacy payments industry puzzle which can usually result in higher fees.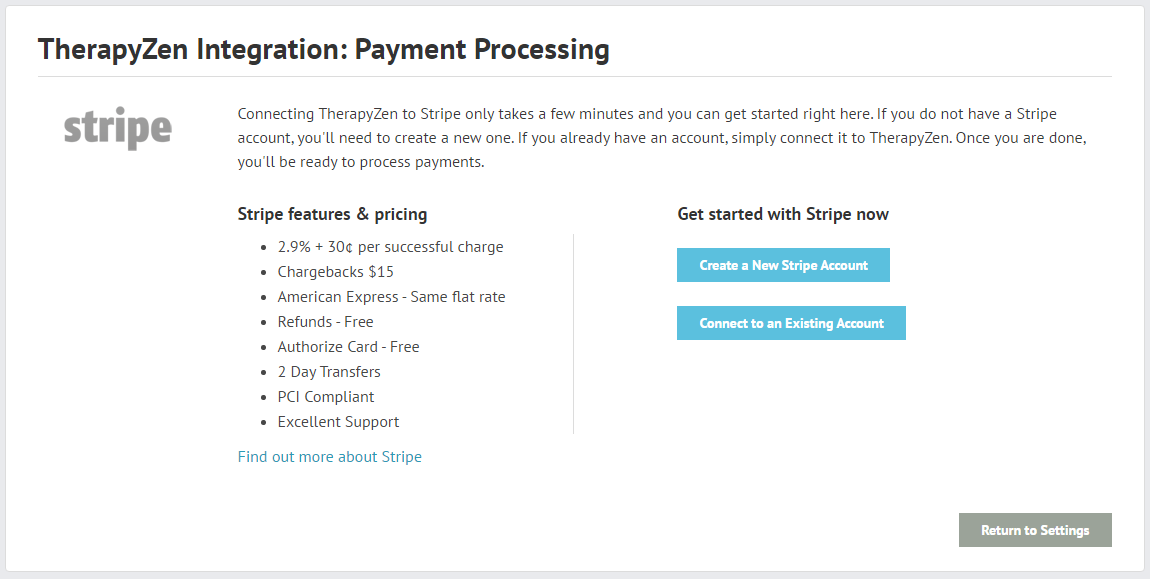 Start Getting Paid Today!
Thousands of businesses and organizations are using Stripe today: Fortune 500 companies, rapidly-growing startups, side projects, nonprofits, and everything in between.
There are numerous benefits to using Stripe. Funds are usually available in your Stripe account within 48 hours of receiving payment. Stripe is a secure vault for your client's payment information and you can use Stripe to process your client's payments any time you wish. It's an extremely powerful platform.
All you need to do is collect your client's credit card once on their therapyzen profile page. From that point on, whenever you invoice them, you can immediately accept payment. Furthermore, therapyzen even allows you to store multiple cards per client!
So what are you waiting for? Use therapyzen, get organized, get paid!