Welcome to TherapyZen, our cloud-based practice management web app for mental health counselors and therapists.
We are delighted to officially announce the launch of TherapyZen as well as our new product blog.  Nearly a year in the making, TherapyZen is the most ambitious project we've ever built! TherapyZen has a long list of features that we've worked tirelessly to create and we've got many more features coming post-launch.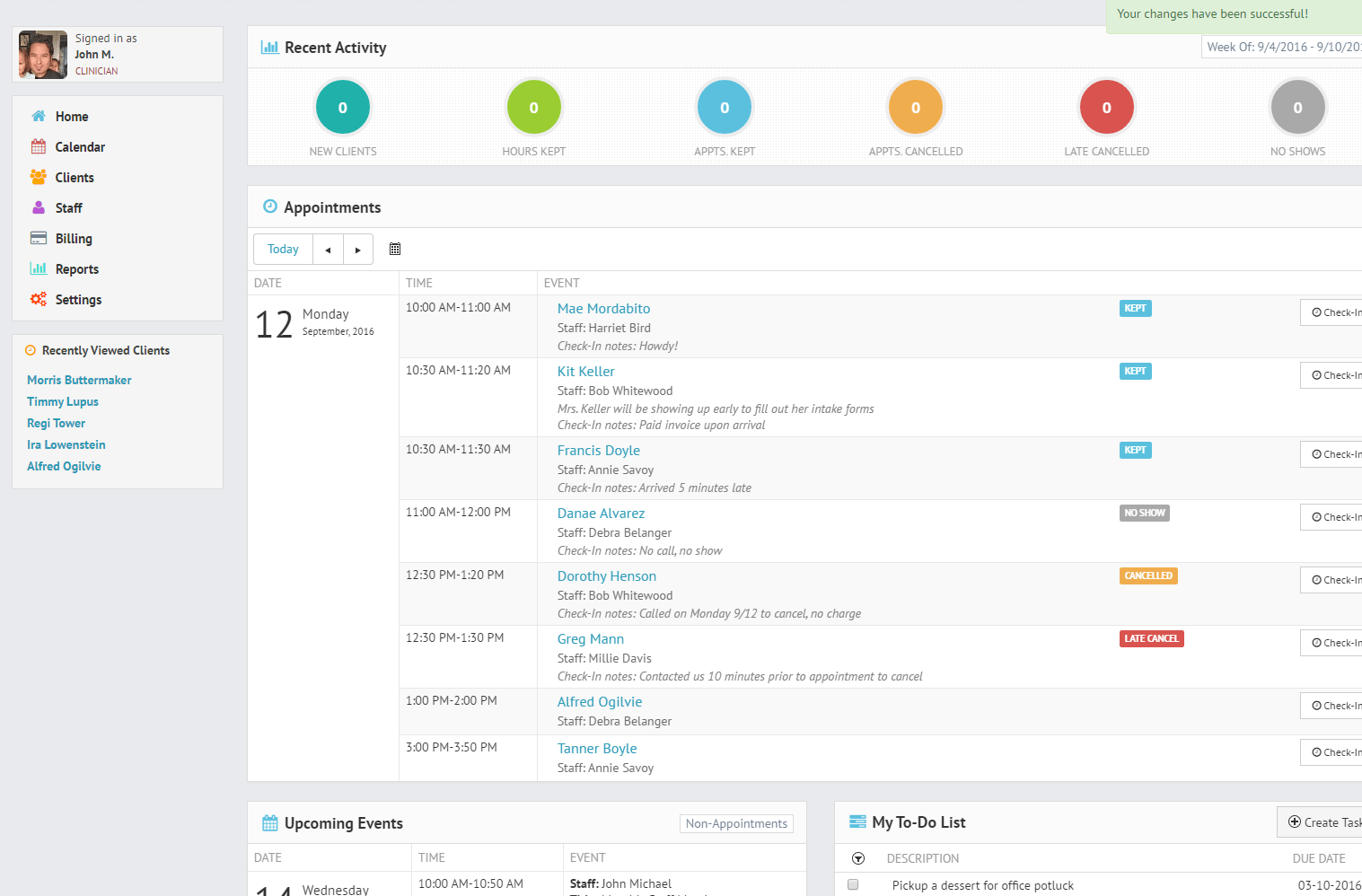 TherapyZen is the result of working directly with private practices for the past twelve months to find out exactly what counselors have been wanting in their EHR software. By listening intently to counselors we were able to build an experience overflowing with common sense behavior and delightful ease-of-use that we think you will learn to love and trust.
TherapyZen is built on the idea of successfully servicing practices equally regardless of their size. EHR software until now has mostly focused on the independent counselor by ignoring the many features essential to running a group practice. TherapyZen cleverly grows as the size of your practice grows. If you start out as an independent counselor, as soon as you start adding additional counselors or staff members, TherapyZen begins to blossom to accommodate your growing business and staff.
Over the next few weeks we'll be sharing a lot more about TherapyZen, but for now we'll focus on a few of the major features that are the heart and soul of TherapyZen.
Appointment Scheduling
Every human or financial transaction for a practice begins with an appointment so we knew that this feature needed the extra attention it deserved. The main problem to solve with scheduling was providing the right type of calendar for each user depending on their role and who they were scheduling appointments for.
This was a very high priority based on the feedback we received from counselors and practice schedulers who had tried other EHR systems and found the scheduling was problematic because only one calendar was provided regardless of your needs.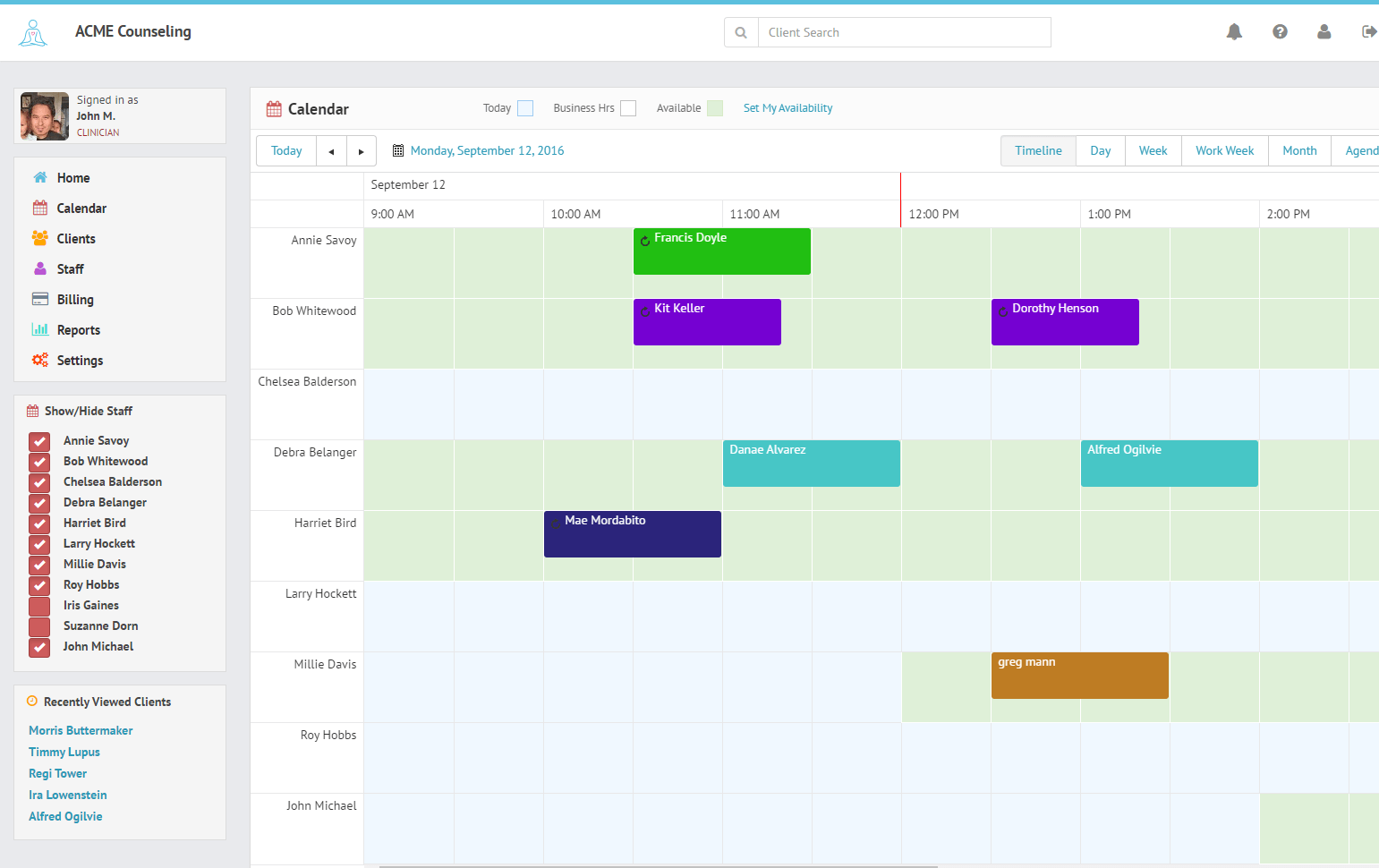 The most common problem was trying to schedule appointments for an entire staff using the common 'month view' that most EHR systems provide. This made for a very messy and cluttered experience when trying to book six or seven appointments in the same day for multiple counselors. TherapyZen puts the right calendar in front of the right people based on your role and the number of clinicians you have in your practice.
For managers and schedulers, we've implemented our sweet 'timeline' calendar view which lets you see the daily agenda for every staffer in your practice, no more confusing clutter for group practice scheduling. Learn more about it…
Flexible Therapy Notes
The next big ticket item for us to tackle was therapy notes. Clear and concise therapy notes are essential to telling story of your client's journey and it doesn't hurt to have them presented as elegantly as possible. We also wanted to make sure that entering notes is a process that lends itself to being very flexible. A single format for notes doesn't work well depending on the nature of your note.
We worked very closely with counselors when it came to what they thought would make for the best note taking experience. We were able to take their input and translate it into what we feel is a very clean and easy user experience. We've baked in all the formatting that is required to get 'in and out' very quickly with regard to entering notes. It shouldn't be seen as a daunting task to enter notes and that's what TherapyZen accomplishes very well.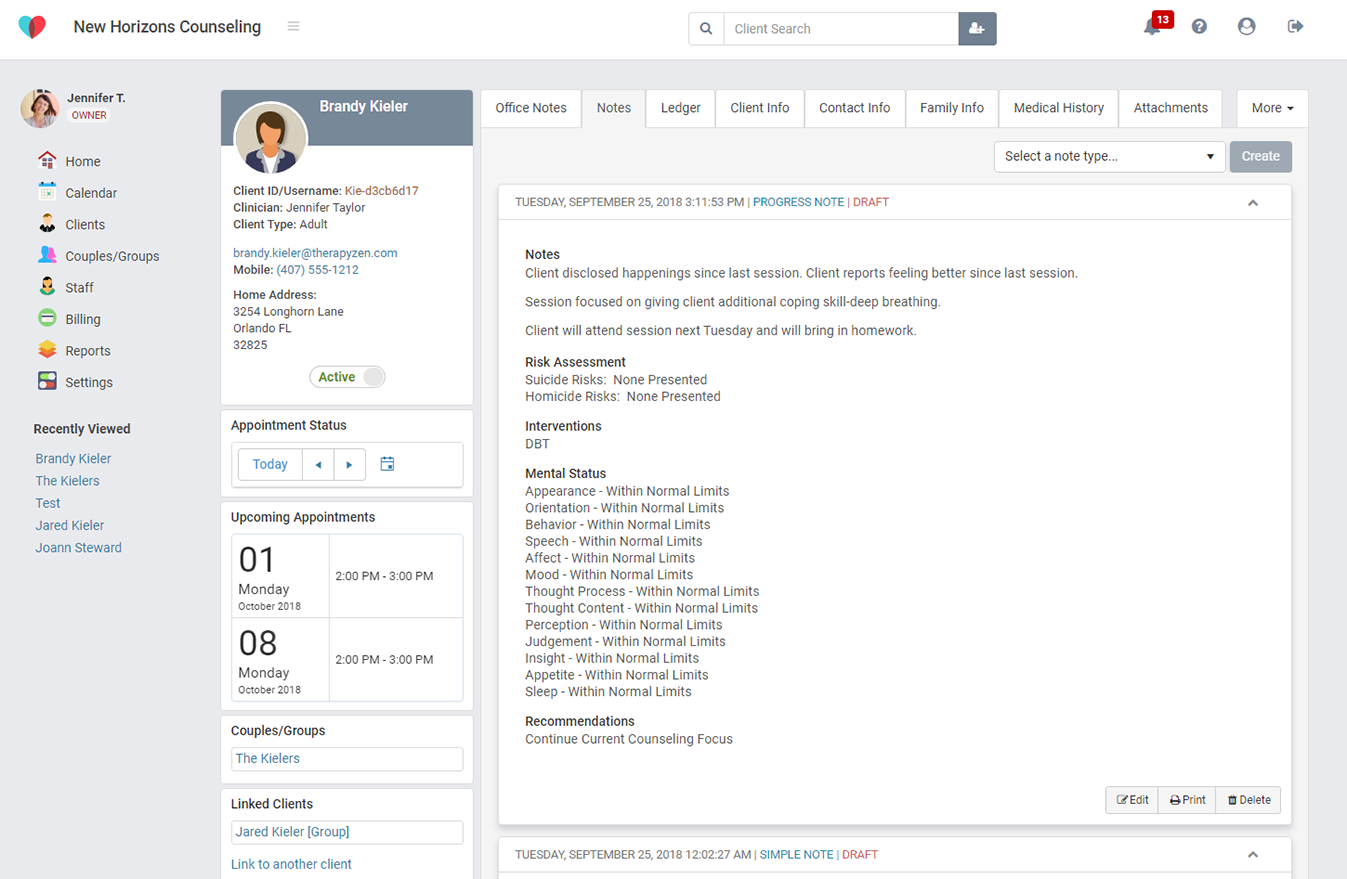 TherapyZen provides three different note formats that you can select on the fly when you are ready to enter notes. You can choose from a 'simple note' that can be a more general note that doesn't necessarily need to be health related. Think of it as a 'quick note' if you will. Secondly, you can select to enter a 'progress note' which provides all the necessary formatting to enter a professionally crafted note along with your client risk assessment and mental health evaluation. Lastly, you can opt for the S.O.A.P. note if you are apt to using the S.O.A.P. method, which also provides the risk assessment and mental health evaluation tools.
All notes can be digitally signed and if you are co-counseling clients, notes can be shared between multiple clinicians in a practice. Learn more about it therapy notes in TherapyZen…
Invoicing and Billing
The more counselors we talked to, the more they made it abundantly clear that they didn't want to have to be accountants to understand their EHR software's billing experience. We took this sentiment to heart and made sure that invoicing and billing could be easily understood and accomplished in TherapyZen. Larger practices may very well have an accounting person on staff who doesn't shriek at the idea of using software to invoice clients, but for many counselors, this process can be a downright bummer if the software just doesn't make sense.
As we developed the invoice creation process, we got a constant barrage of feedback from counselors that we worked with to make sure we were keeping things simple and manageable. Once it was all said and done, we were very proud of what we had put together and the response we got helped justify that sense of accomplishment. Creating and accepting payment of invoices is as straight-forward as we could make it as well as printing superbills for clients seeking insurance reimbursement.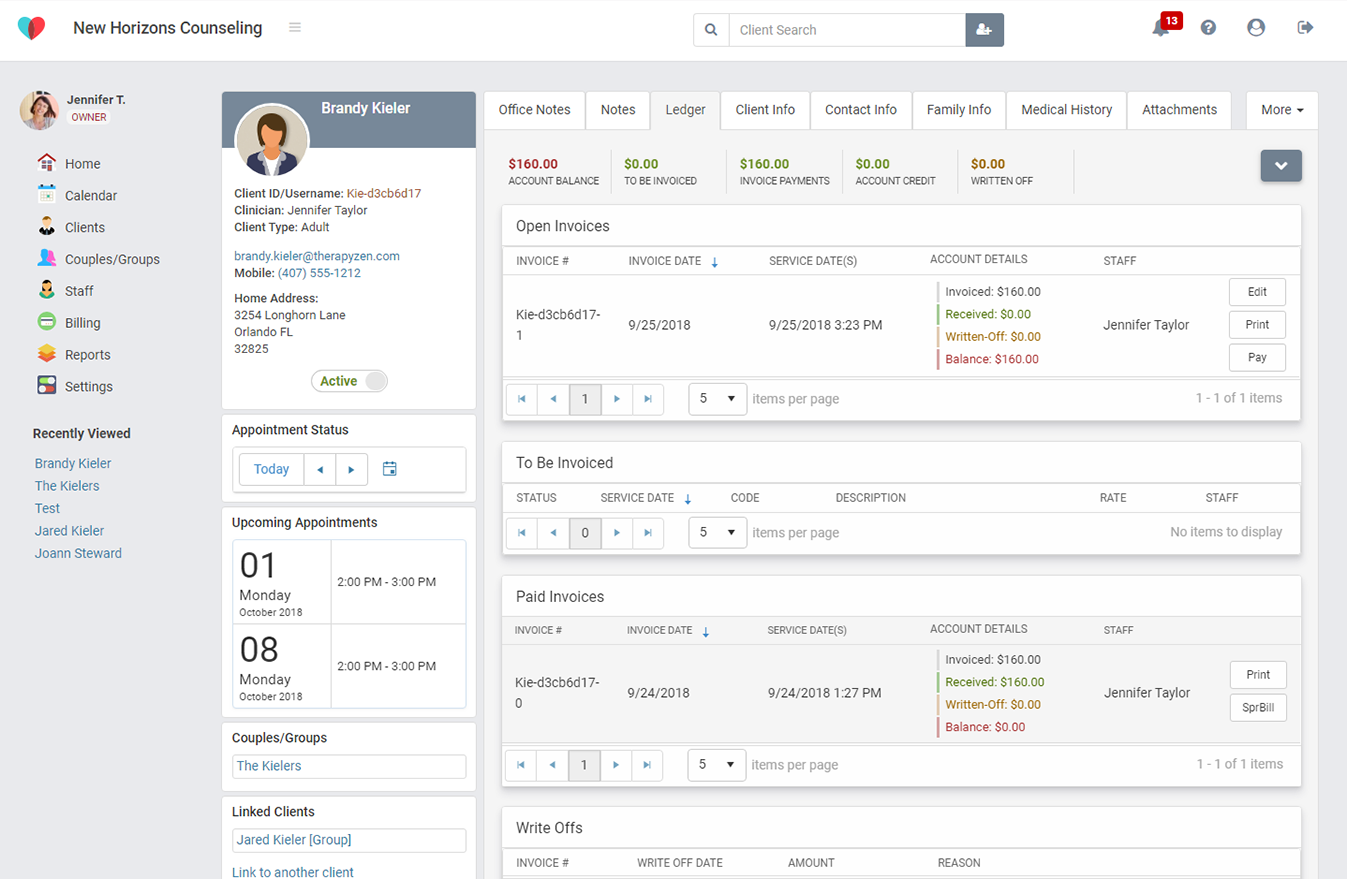 Learn more about invoicing and billing in TherapyZen…
The Client Portal
The client portal is hugely important for two major reasons. First, you are able to cut down your own data entry tremendously by letting your clients enter their own details using the portal. Our client intake wizard lets you hand off the new client data entry directly to the client which saves you valuable time. Secondly, engaging your clients shouldn't be relegated to your therapy sessions.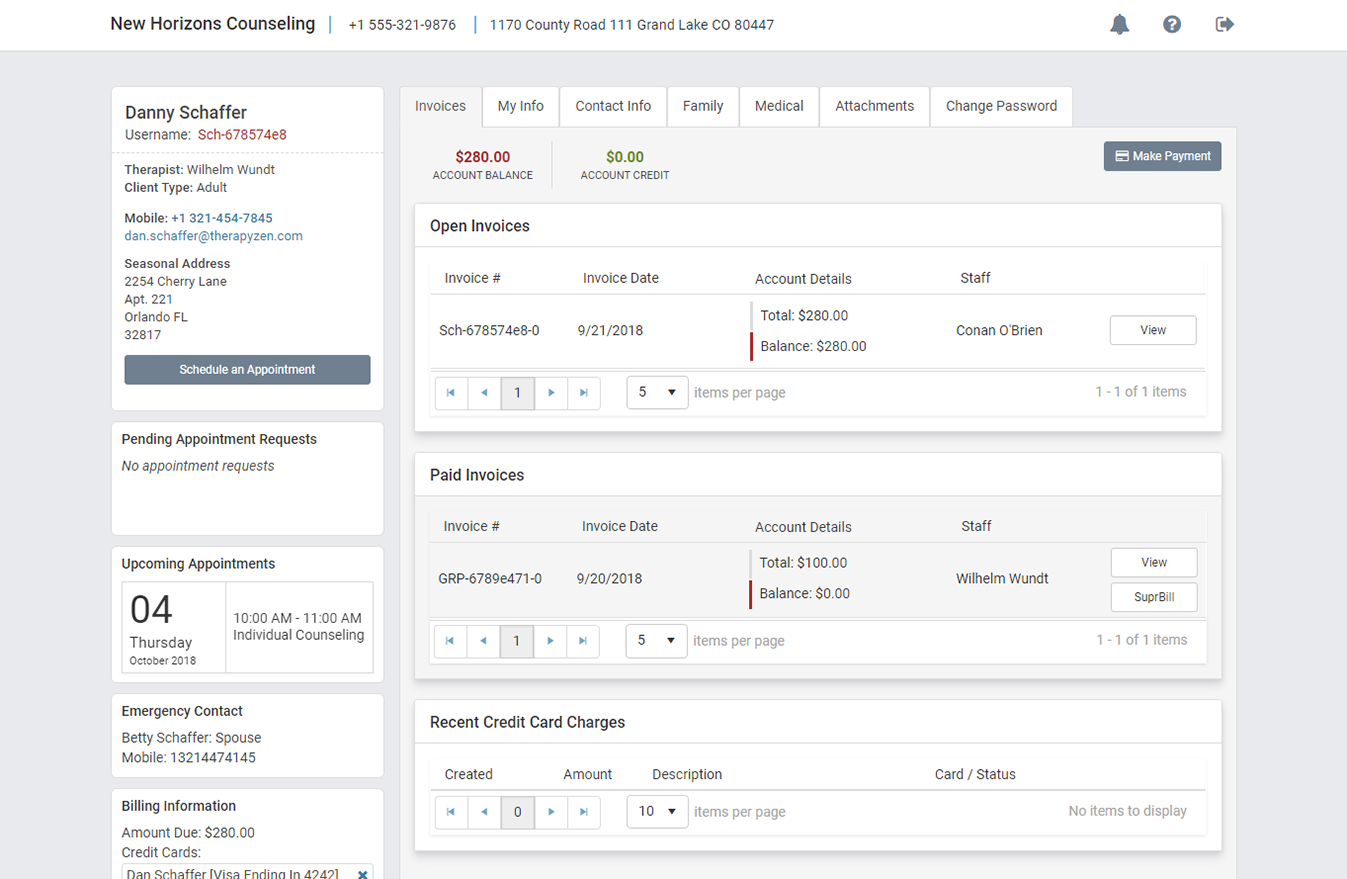 The portal gives clients the opportunity to stay engaged by logging in to check for upcoming appointments, get contact information and eventually schedule appointments and share messages with assigned clinicians. Finally, one of the most important aspect of the TherapyZen client portal is there is no extra cost!
Other EHR packages might make you pay additional fees for this feature, but to us, it is so integral to client engagement, we decided that anyone who uses TherapyZen should have access to it. Learn more about the client portal and digital intake wizard in TherapyZen…
So that's enough for now!
There's so much more to check out and we'll go into more detail in our next post. For now, please go and sign up for TherapyZen and give it a free test-drive. You don't need a credit card and there's no obligation.
Thanks to all that participated in our beta which helped us build and test TherapyZen! It's improved because of trail blazers like you!