Our new Therapyzen Referral Program puts our money where our mouth is.
Instead of dumping money into annoying facebook, twitter and google ads, we are deciding to give those dollars to our customers.
As 2019 quickly approaches, we have been thinking about new marketing campaigns and how to introduce Therapyzen 2.0 to more people. Yeah, we could go the traditional route and throw money at Google and the social media giants, but maybe there's a better way to get the word out there. Besides, do we really want to contribute to more annoying ads in your social media feeds? No thanks.
We wanted to find a way to spread the word that felt more honest and transparent. We've all seen those cookie-cutter ads that don't really have anything to say other than 'Hey, look at me, I use a computer!'. We wanted more transparency and a way to really convey why TherapyZen should be your solution of choice. The more we thought about who to turn to for a better marketing campaign, the answer became clear: Our customers.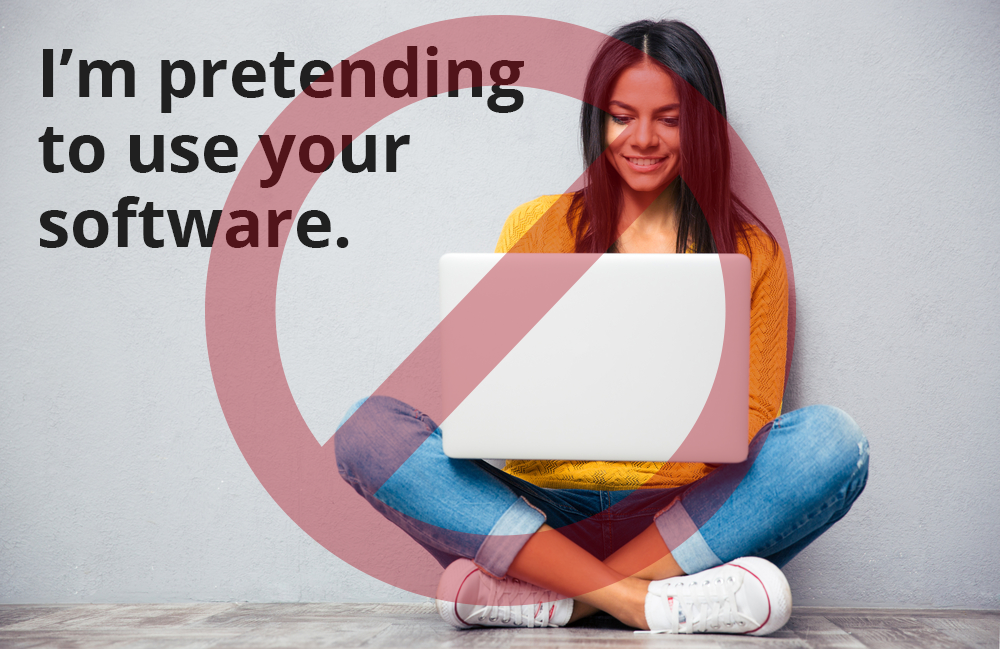 Our customers are better advocates for TherapyZen than any advertisement we can design. They're not an image or a platform, they're people who know other people who can surely benefit from TherapyZen just like they are. That being said, we decided that the best way to do that is to pay customers for customers. So that's what we're going to do.
Introducing the TherapyZen Referral Program.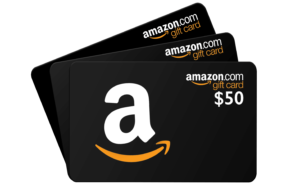 It's simple. Refer someone to TherapyZen, and we'll mail you a $50 Amazon Gift Card. And that person you referred will get their first month of service for free. This is the fairest way we could think of to say thanks for sending someone our way, and the free month to welcome your colleague into our wonderful community!
You don't need to apply to be part of the referral program. All you need is a paid TherapyZen subscription. If you've got one of those, you're already on board. Just log into your TherapyZen account and go to your staff profile. You'll see a new tab titled "My Rewards":
Click it. Then you'll see something like this: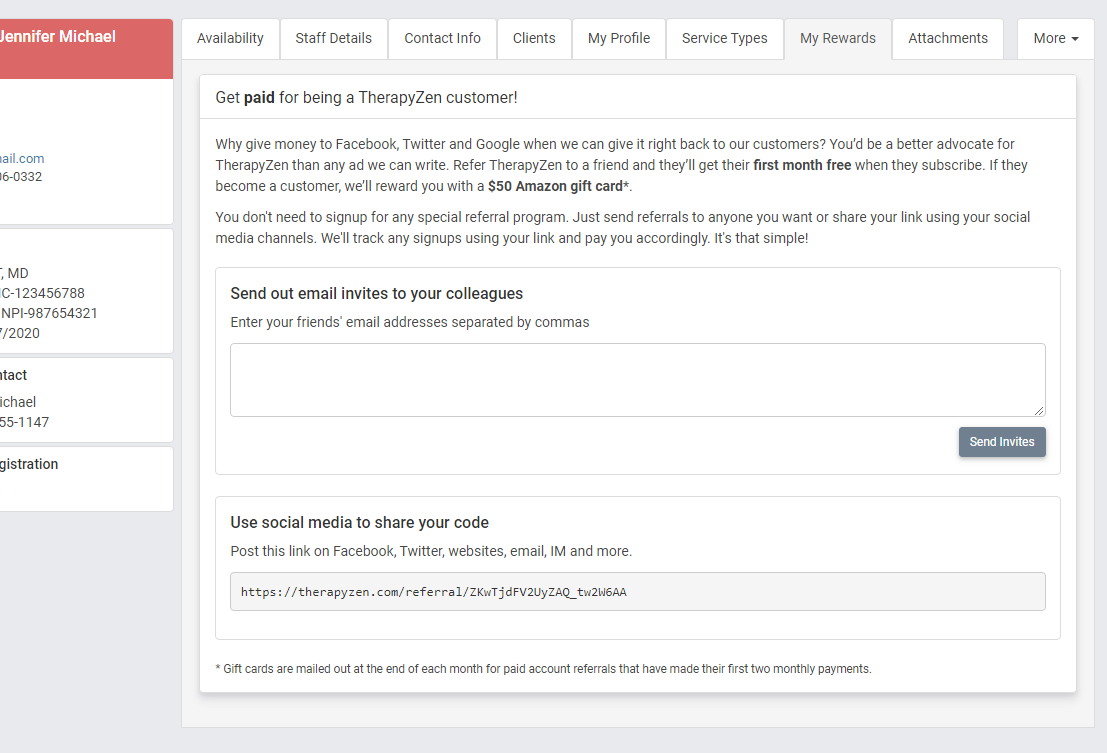 Just insert the email addresses of any of your colleagues and click 'Send Invites'. If you enter multiple email addresses, just make sure you separate them with a comma.



If a referral signs up, and remains a customer for at least 2 subscription payments, we'll mail you a $50 Amazon Gift Card. No questions asked.
You can also use the section provided below to post your referral link on social media sites or instant messaging tools. The code at the end of the link is your personal referral code. As long as the link gets used, your tracking of referral rewards begins.


Rewards for everyone, not just the practice owner.
We used to offer a free month of service as a reward for bringing in a referral. Problem with that is that if you're on someone else's TherapyZen account, then your referral would give the account owner credit. You wouldn't see any of that cash. Not good.
So we designed this program to pay the person who referred, not credit to the account they're part of. Now everyone can make a little something when they tell other people about TherapyZen. Even non-clinicians can get in on the action as long as they have a TherapyZen login.
One for One
Ideally, we'd love to see every customer we have bring us just one more customer a year. That would be an amazing outcome.
Everyone's gotta know at least one person who's struggling at another practice with antiquated software solutions, old paper files, a fear of going digital, or using 5 different apps cobbled together to create a Rube Goldberg type of workflow. Someone you know is not organized and inefficient, and the tools they're using are partially to blame. Let's help them!
We've got stacks of Amazon Gift Cards ready to be delivered. Help us jumpstart these rewards by doing something that we already do naturally: help out our friends and colleagues.