The wait for electronic billing is finally over.
Exciting news! Therapyzen's electronic insurance billing is now out of beta!
We would like to extend a huge thank you to everyone who participated in our beta. Your feedback and suggestions were invaluable in making our insurance claims and payment management even more user-friendly.
We are proud to announce that our electronic insurance billing feature is now live and available for all users. With all of the finishing touches in place, it is now even easier to navigate and use.
All the tools you need to get paid quickly.
Some of the new features available include:
The ability to enter manual EOB or other insurance payment details.
The ability to mark claims as closed.
The ability to automatically allocate ERA (Electronic Remittance Advice) payments from your payer(s).
The ability to submit secondary claims using client secondary insurance policies.
Insurance billing reports.
Our powerful and user-friendly 'claims dashboard' is still here and better than ever. Manage your CMS files, claim cycles and payments all in one place with ease. You'll receive up-to-the-minute information on the current state of everything claims related.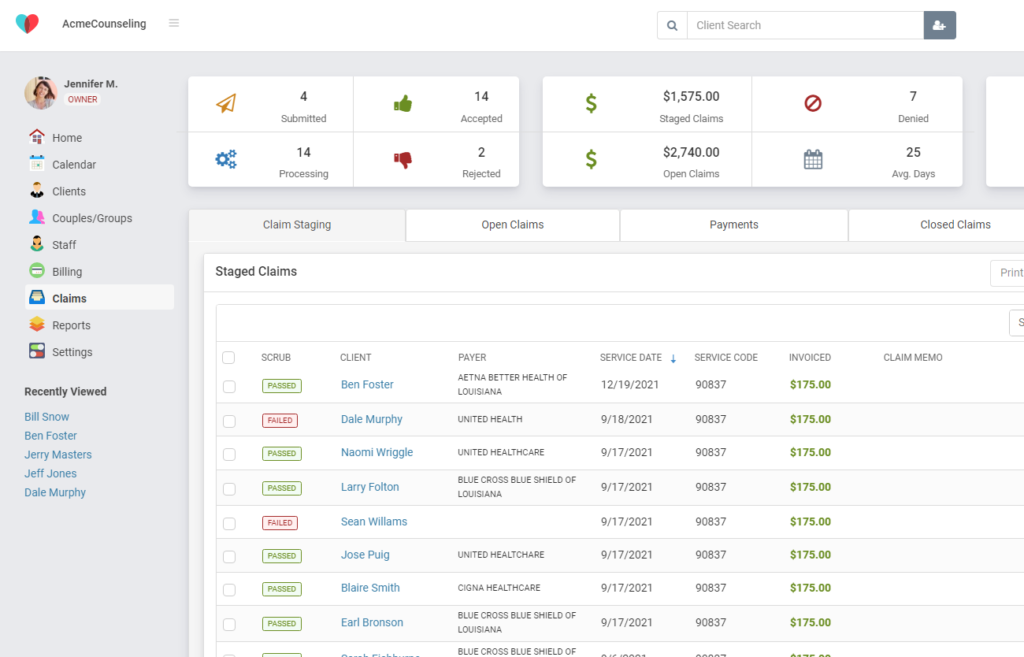 Your time is valuable.
Our claim submission process is still as easy as ever. With our 'One Click' claim submission, you can get your claims scrubbed and submitted to your payers in no time.
Close your claims with minimal effort and costs.
Remember, our fee for claim submission is $0.25 cents per claim (Office Ally fees notwithstanding).
We're confident that you will love our electronic insurance billing feature, and we can't wait for you to try it out! If you need any help or have any questions, feel free to reach out to us at support@therapyzen.com.
Thank you again to everyone who participated in our beta, and we look forward to continuing to create the best user experience for you.
Onward! The team at therapyzen.